Apeland la tertipuri lingvistice de genul "mi casa es su casa", spatiul virtual in care imi dau voie sa zvacnesc neuronal, emotional, intelectual, verbal si moral (necesare, dar fara a se limita exclusiv la) este dornic de oaspeti. Totusi, orice joc, fie el si cel de cuvinte, are nevoie de cateva reguli  ca sa devina cu adevarat interesant pentru participanti.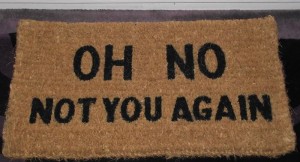 Acestea fiind spuse va anunt, dragilor si dragelor care va nimeriti sau va propuneti sa fiti prin preajma twitch-urilor mele ca:
1. Nu conteaza cat de lung ai commentul, daca el nu spune nimic, imi voi rezerva dreptul de a nu il baga in seama sperand ca se va ofili si va disparea. In cazul in care am de-a face cu un comment recalcitrant, din ala de face urat daca nu e bagat in seama, voi apela la metoda starpirii ca sa nu mi se strice feng-shui-ul inspirational si sa nu mi se sperie energiile creatoare;
2. Dupa cum vedeti nu am o problema in a combina stiluri si cuvinte din diverse limbi atata timp cat produsul finit este corect gramatical, are sens si zvac, ceea ce va doresc si dvs. Nimic nu straluce mai puternic in soarele twitch-ului ca un comment impecabil gramatical, deci nu ma/va/ne dezamagiti necinstind limba romana/engleza in incercarea de a fi cu "o secunda mai destepti";
3. Oricat de mult mi-ar placea mie bocancii (mai ales Doc Martens) nu ii doresc infipti cu gingasie si sfiiciune in twitchaiala mea. Gandirea hiperconcreta insotita de urma de bocanc pe blogul proprietate intelectuala personala se lasa cu facepalm-uri de un wit ustorator, intrucat I have a brain and I will use it if I have to ;).
Si cum prea multe reguli strica farmecul jocului, va spun ca ar fi tare fain daca nu ati savarsi la mine in batatura virtuala lucruri, fapte, chestii, treburi pe care nu va doriti ca eu sa le savarsesc la voi pe blog, pagina de FB, etc.
Va invit sa ma cititi, analizati si comentati ca sa cresc mare si frumoasa. Pseudo-scriitoarea in ascensiune din mine va va fi profund recunoscatoare… Enjoy!