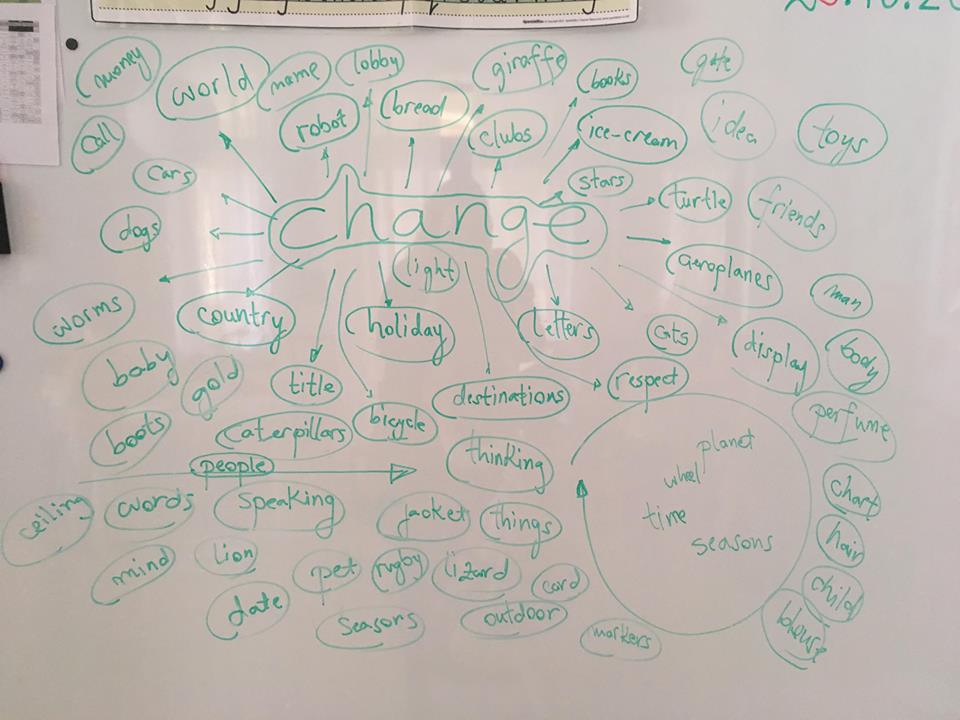 Asta este o radiografie a constientului colectiv a unei grupe de 19 copii de 5-6 ani care s-au gandit pentru 25′ la 'change'. Si au incercat sa conecteze totul de tot, pe masura ce eu notam fiecare cuvant pe tabla care a devenit in scurt timp neincapatoare.
Si procesul de brainstorming a pornit dintr-un concret situational (gen 'change toys' sau 'change the jacket') si s-a dus vertiginos spre abstractiuni precum 'change the world', 'change my body' sau 'change people'. Schimbarea e un subiect generos de conversatie independent de varsta partenerilor de dialog, iar astazi a fost o zi numai buna de reflectat.
La noi. La lumea inconjuratoare. Unul la celalalt. Si post-talk eu la mine si la cum face parte schimbarea din viata mea. Gandurile care mi se deruleaza in spatele capului, concomitent cu gandurile le care le si verbalizez, s-au legat unele de altele ca intr-o cascada de neoprit.
Noi suntem cine suntem. Nu ne schimbam semnificativ. Esenta ne ramane aceeasi si in momentele vitale ale existentei noastre, esenta este fix ce conteaza. Orice efort de a ne preschimba in altcineva va fi in final un efort mult prea greu de sustinut la infinit. Asa ca e misto sa stii cine esti cu adevarat, sa iti placa de tine si sa iti traiesti viata fiind cine esti.
Prea filozofic?
Schimbarea care se petrece sub influenta presiunilor externe, nu aduce nimic. E goala, sterila si de plastic. Dintr-un plastic din ala nasol, nociv, facut pe vapor. Si aici nu vorbesc de flexibilitate si adaptabilitate, ci de lucrurile mici si dese pe care le facem pentru a fi placuti.
A fi placut de cei din jur nu ar trebui sa fie un scop in sine pentru un adult. Dar la sfarsitul zilei multi dintre noi suntem niste copii care jinduiesc la aprobarea si aplauzele publicului. Putem oare trai si fara? Cu siguranta! Dar putem trai fara a fi sinceri cu noi insine si autentici fata de cine suntem cu adevarat?
Life in plastic is fantastic. Lucky for me that I believe in natural materials, genuine feelings and owning who I really am!