Oricat as incerca sa ma indrept si spre alte stiluri, imi tot reapare in  drum, ca un laitmotiv, pin-up-ul. Si am zis ca nu are sens sa il alung, daca vrea sa fie parte din cine sunt acum. If I like to pin myself up there, wherever there might be, well that's how it's gonna be. Si daca tot am percutat instant la unele accente estetice ale stilurilor epocii '50s+, mi s-a parut de bun simt sa ma apuc sa si citesc un pic despre ce se ascunde in spatele a ceea ce se vede.
Recurenta ca de fiecare data (si inca stau sa ma gandesc daca asta e un pleonasm sau nu), trebuie sa aflu de ce femeile au decis sa se exprime in halul asta. Si spun hal cu toata consideratia fata de reprezentantele speciei "pin-up" pentru simplul fapt ca au reusit sa socheze indeajuns de mult incat sa se indrepte subtil si spre o miscare feminista.
Cica prima duduie care a fost pusa in cui a fost Bettie Page, supranumita "The Queen of Pin-Ups", si se prezenta cam asa: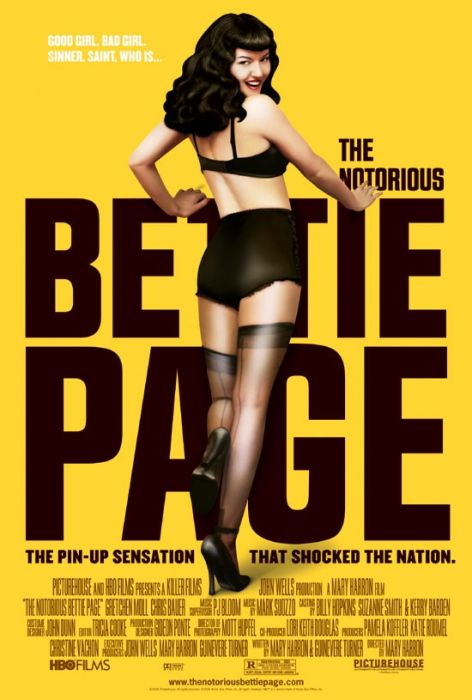 Pentru vremurile alea, o astfel de aparitie intr-adevar era una socanta, prin senzualitate, feminitate si acel "je ne sais quoi" – pardon my French. Si dupa acest debut atat de reusit, pe care multe femei ale acelor timpuri l-au revendicat ridicandu-l la rangul de "Looks to live by!" au fost muuulte alte female figures who followed, printre care: Marylin Monroe, Elizabeth Taylor, Gina Lollobrigida, Claudia Cardinale, Jacqueline Bisset, Brigitte Bardot si pana la….
The (In)famous Ms Dita Von Teese,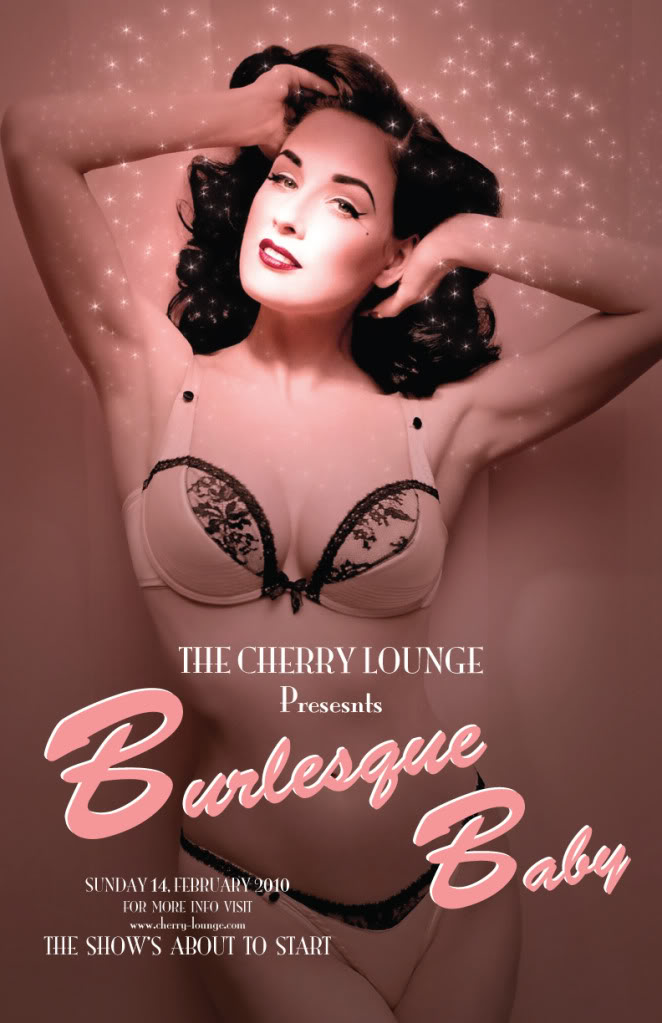 al carei nume real pare a fi tot un alias, parca si mai simpatic decat cel initial – Heather Renee Sweet. In drumul ei de la Sweet la Teese, aceasta figura reprezentativa a culturii pin-up contemporane s-a autoproclamat an American Burlesque Dancer si a dus mai departe, cu siguranta fara sa isi dea seama prea tare, mostenirea fetelor bune de pus in postere pe care le agati la loc de cinste.
Tocmai ce mi-a venit in minte, apropo de pin-up girls, de scena din Shawshank Redemption in care Andy Dufresne isi suplimenteaza colectia de pin-ups, care ii vor fi salvatoare in planul sau minutios de evadare.
Morala: Pin-Ups can certainly put your life into a whole new perspective! 🙂
Cred ca undeva prin adolescenta (cum altfel? :)) au inceput sa imi suscite interesul stilul si cultura pin-up. There is just something so glamourous, charming and interesting about these women. Par ca de acolo, din posterele pe care le umplu cu atata gratie, sa faca uz de puterea feminitatii, intr-un mod care poate fi catalogat, eronat zic eu, ca degradant.
But if God made you a woman, you just have to learn how to fight as a woman, making use of your womanly strengths and ways. Nu ma voi da inapoi niciodata de la a apara drepturile femeilor in contextul in care societatea actuala intelege distorsionat notiuni precum emanciparea femeii sau egalitatea de sanse dintre barbati si femei. Numai ca voi recurge la aparare doar in cazurile in care femeile au nevoie de ea.
Un concept destul de greu de inteles si acceptat e acela ca nu toate femeile care par a fi "fara aparare" chiar sunt, precum si acela ca nu toate femeile "fara aparare" vor sa fie "salvate" sau "aparate". Revenind la reprezentarea femeii in cultura pin-up, am convingerea ca toate femeile care au ales sa devina icons for a generation, independent de fragilitatea vietii lor personale, in rolul de pin-up si-au exercitat pe deplin puterea feminina.
Un poster care imi incanta retina si pe care il bag tot in marele cufar pin-up al mintii mele este: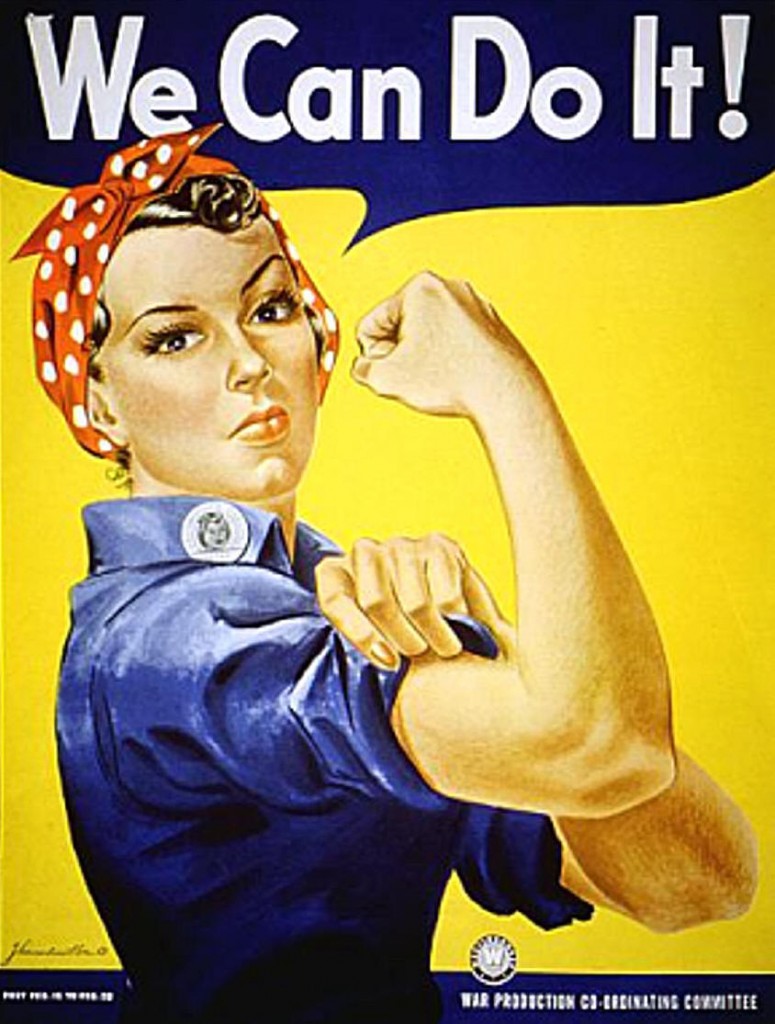 And I do believe with every fiber of my being that WE CAN DO IT! Fara a incerca sa fim barbati, fara a ne purta precum barbatii si fara a pretinde ca avem aceleasi strengths and ways ca barbatii. Pentrul ca in momentul in care o vom lua down that road, it's gonna be a downfall in care nu vom arata decat ca niste femei caraghioase care pretind sa se simta confortabil in pielea barbatilor doar pentru ca au naivitatea sa creada ca astfel vor reclama sceptrul puterii absolute.
Nu prea agreez titulaturile pompoase, cat nici etichetarile for that matter, dar daca ar fi sa fiu ceva, as fi a pin-up moderate feminist care este indeajuns de aware de apartenenta sa de gen incat sa make the best of it, dar si foarte hotarata sa sara la bataie (pentru drepturi, libertati, demnitati si nu numai) when summoned ;).