Uneori, acum mai mult ca in alte dati simt nevoia sa keep it low and simple. Este absolut incredibil pentru mine sa ma dedublez si sa-mi arunc niste priviri cand in loc sa merg drept, aleg sa o iau prin munti si vai. Si ghici ce, la final tot acolo ajung.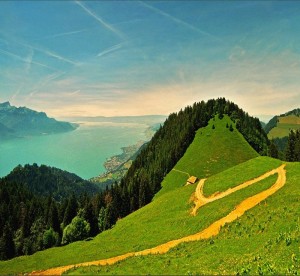 Diferenta? Ah da, multa oboseala, febra musculara si oaresce simtaminte initiatice de femeie pierduta in salbaticie. Toata situatia asta poate sa fie la fel de bine o metafora, cat si o forma concreta in care mi se intampla sa ma intamplu. Nush sigur daca e doar a matter of preference sau alegere constienta si asumata, sau mai intra si niste flash-uri inconstiente.
Din (ne)fericire pentru mine atunci cand sunt prea concentrata pe cum sa trec catre urmatoarea vale, restul peisajului dispare si se instaleaza o activare energetica in care I just have to get there no matter what it takes. Nu ma intelegeti gresit…stiu si cum e pe drum drept, lin si neted. E fain, numai ca nu va puteti astepta de la o viata de  vai-munti, vai-munti, vai-munti trecerea si la drum drept si neted sa fie una lina.
Ca in primul moment stai nedumerit si te intrebi: Ok and where's the fun in that? The fun part am descoperit io 😀 ca ar fi tocmai aia cu admiratul peisajului. Poti vedea vai si munti, in timp ce mai vezi s-o floare, o pietricica, un omulete si tot asa. Drumul drept, lin si neted apare pentru mine in ultima vreme ca datator de peace and quiet.
Ce-i mult strica, imi spunea cineva odata si sa stiti ca bine zicea. Asa ca puteti sa ma numiti muntomana de ocazie: a vazut ca poate escalada vai-munti, dar nu o deranjeaza cu nimic sa mearga pe drumuri forestiere line si drepte once in a while. Atentie! Nu am mentionat sosele sau trotuare, de unde se poate deduce ca si peace and quiet-ul meu sunt relative. Fiecare cu sistemul propriu de referinta, dragul de el.
Sau cum zic invatatii, fiecare are povestea sa dominanta. In capul meu postul asta chiar are sens, ceea ce nu implica neaparat ca va avea (acelasi) sens fie pentru voi, oricare m-ati fi citind. Bottom-line: I shall try not to make things complicated, where simplicity prevails!